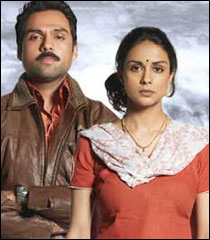 Abhay Deol and Gul Panag who are a part of the upcoming film Manorama Six Feet Under are quite pepped about their new film which will see them playing husband and wife. The duo chatted up with us about their roles and their mystery film.
Abhay who plays the lead in the film, begins with telling us about the film "The film pays homage to the noir genre and is directed by Navdeep Singh. The film is based in a fictitious town called Lakhot in Rajasthan. The film is about this guy who works in the public works department .He also writes a book called Manorama. One day a woman walks into his office and as it is a small town and there are no detectives, she hires him to spy on her husband"
And what role will we see Abhay portraying? "My character in the film is called SV. He has a wife and a child and is a junior engineer in the public works department. He gets suspended for corruption. He also writes a book called Manorama which flops. He is desperately trying to get out of his middle class life. He has a lot of aspirations and dreams and is aware that he is stuck in a routine mundane life."
Gul who plays Abhay's wife owns a beauty parlour in the film and tells us more about her relationship with Abhay in the film. "My character in the film is called Nimmi she is very bossy and has a sharp tongue. And her husband doesn't say anything about her volatile nature as he wants to maintain peace. Nimmi owns a beauty parlour in the film and it leads to her being bossy as she is financially independent. She and her husband are living an extremely mundane and routine life. This woman is one phataka . Her husband being a junior employee, their earning is not enough to support the family needs and she being financially independent can buy stuff for herself and her kid. This becomes another angle for her being powerful. She isn't a bad person. She cooks, cleans and takes care of her family. It's just that her husband has one perspective and she has another and so the differences. This also becomes a reason as to why Abhay (SV) wants to break free of this mundane life and becomes a detective".
Abhay is seen sporting a moustache for the first time in this film. Did the actor have any problems sporting a moustache? "I was alright about sporting a moustache. I don't see any problem in sporting a moustache". And what about Gul who had to wear loose baggy gowns and almost no make up look in the film? "I think just because one has a good body, it's not important to expose in every film. In the film I play a middle class woman and so the clothes are also designed in that way. Like in the morning you will see her wearing a gown and petticoat, without make up."
The entire film being shot in Rajasthan did the two actors have any interesting incidents occurring on the set? Gul gives us the details "We have a fantastic art department which added so much to the film. The kitchen which they had designed for the film was completely equipped with all modern day utensils and other stuff. Once when I did not have a shot I decided that instead of hanging around the kitchen I would make use of it. I prepared aloo ki sabji for everyone. It was great fun".
This is the first time when the two actors are working together. How was their experience? This is what Abhay had to say "Working with Gul Panag was fun. She is extremely sweet and she always wants to do quality work. And what does Gul feel about her co-star? "Abhay and I have known each other since a long time now. Actually he was the one who told me that Navdeep is making a film and that's how I met up with Navdeep."
Along with Gul the film also stars Raima Sen. How did Gul find working with Raima? "Myself and Raima have no scenes in the film. We did not even have a single day of working. Unfortunately I shot for the first 15 days and Raima came on the 16th day for her shoot. She did insist on me staying back for at least a day or two, but I had to leave because I had another shoot lined up. The only time we were together was when we were at the workshop before the film started."
Interestingly this will be the sixth film for Abhay Deol with a debutant director. Is this a intentional move or it's just by fluke? "It's just that I meet people, I read scripts and if I like them I go ahead and do the film. Also these new directors are not tainted or being judged and have a lot of new ideas."
Finally what's lined up next for Abhay and Gul? Abhay begins by telling us about his upcoming films "I have Junction directed by Atul Saberwal (again a debutante director) and Dev D by Anurag Kashyap which are lined up next. Meridian is in its post production stages." And what is Meridian about? "It's a bilingual film (Hindi, English). It's an ensemble with many characters. And what about Gul "I am doing Hello, Summer of 2007, Anubhav and Alibag ."