Actress Gul Panag who is fitness freak has said that it's a tremendous asset in life to be fitter then not.
Gul Panag was interacting with media at the launch of Indian Premier Squash League on Wednesday in Mumbai.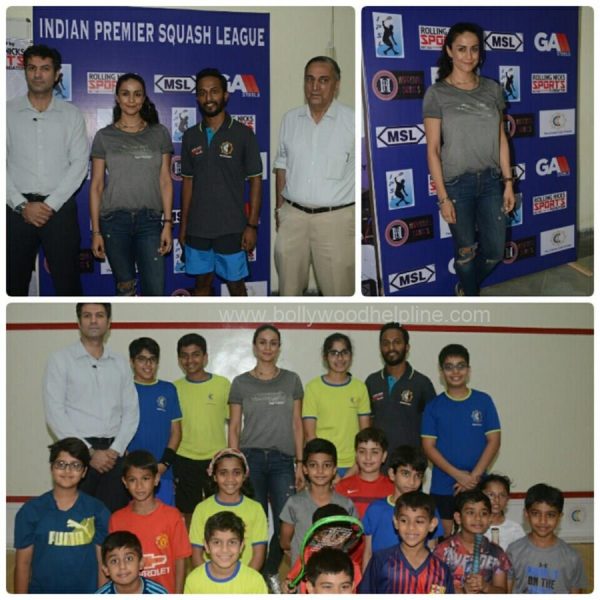 Talking about how competitive sports helps an individual to build their personality , Gul said, "I think it's a tremendous asset in life to be fitter then not because it allows to grapple with the challenges that come your way and I think only way to have sustained and lifetime commitment to fitness if you start young so, anybody who has played any kind of competitive sport or has been part of team sport at the young age will value the returns that you get on the time you invest in fitness. Sport has an incredible impact on how you feel about yourself, how you take on other challenges and I think that's the beauty of the sport and fitness for the sake of fitness without sport can be done but its far more challenging because when you chasing a goal it becomes that much easier and commitment become easier so any kind of fitness when it is goal oriented and can be tracked when you are chasing that set goal is perhaps more inspiring than just fitness for the sake of fitness"
Talking about 1st edition of Indian Premier Squash League, Gul said, "I think more is less when it comes to organizing sporting events in our country because we have large pool of talent who can participate in any form of sport but they don't get opportunity of that but events like Indian Premier Squash League gives them opportunity to know and experience a sport and then to participate in it. I feel it's a great achievement on the part of organizers of this league"
Talking about dominance of cricket over other sports in India, Gul said, "I think we are still focusing lot on cricket and if audience focus will be on cricket then the brand which funds sports also be focused towards cricket and I think when audience will be aware about other form of sports then obviously brands will also come forward to invest in those forms of sports and I think ball is now in people's court to decide in which sport they are interested in so, I think people have to take initiative and it is not that anyone is going to lay red carpet for them to play a sport. I think people who are associated with sports they feel connected to it in their entire lifetime and it benefits them as well"
On political front, Former Miss India and actor Gul Panag has joined Aam Aadmi Party (AAP) and will be its candidate for Lok Sabha polls from Chandigarh, a place where she was born.