I love to travel and I travel a lot! It's in my family, my dad was in the services and we were posted to many places. Initially, holidays were to typical destinations like London, Paris, but eventually I found the tourist in me ebbing and giving way to the traveller, looking to discover the more exotic, offbeat and unique places. Finland is definitely up on my list of amazing places in the world. The first word that comes to my mind when I think Finland is the word 'magical'. I love Finland's winter.
With the snow and all the white around, it really is a winter wonderland. The Finnish Lapland is one of the most stunning places in the world. The snowy Lapland reminds me of Christmas and Santa! This is his land. It also reminds me of the magical land of Narnia. When you look around it just feels like Aslan or some magical creature will appear from around the corner.
Let's get back to the trip. Finnair is the best bet to take you to Helsinki, the Finnish capital.The immediate impression on leaving the airport is a typical
European capital, superbly functional and pretty, with heritage buildings still in use, the streets host to an outstandingly usable tram/bus system, not overrun by cars; yet highly walkable. It's a landmark, both for the city, and in modern Helsinki's architectural history. It is classical, but more modern than its 1909 date suggests. This was my third trip to Finland.
My first stop was Rovaniemi, situated right on the Arctic Circle and official residence of Santa Claus. Santa's office itself, a sort of throne room, where you could have a personal chat about your wishes with the man himself and have an elf photographer immortalise the moment for all time. You may also get to spot Rudolph, the reindeer, so make sure to have your cameras handy. Aside from the beautiful hillside terrain and glorious river scenery that it has to offer, visitors will be able to enjoy the historic city landscape of Rovaniemi as well.
Click the below image to read the full story.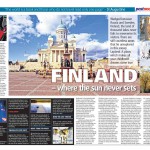 Source: Postnoon