After clearing written tests and a day-check ride a few months ago, actress and adventure junkie Gul Panag recently received her pilot's licence. "There are two parts of the exam, one is written and then you are tested on the aircraft with your instructor, the final check. Then, you submit documents, medical papers, exam results, flight radio operators licence and your log book where number of hours on flight are written. That got issued a couple of weeks back. I try and fly every month. Every Sunday, I fly on the simulator for two-three hours because it keeps me up to speed so I don't need to get my groove back each time on a real plane. A lot of people would have never seen what an aviation licence looks like so I shared it on social media," Gul says.
Explain the process further, Gul says, "The DGCA (Directorate General of Civil Aviation) requirement is flying 40 hours, of which 20 have to be solo and 10 cross country. I broke mine into three-four installments. I'm getting together with like-minded friends who are pursuing PPL to buy our own plane. The plan is to do an around-the-world flight in a single engine aircraft."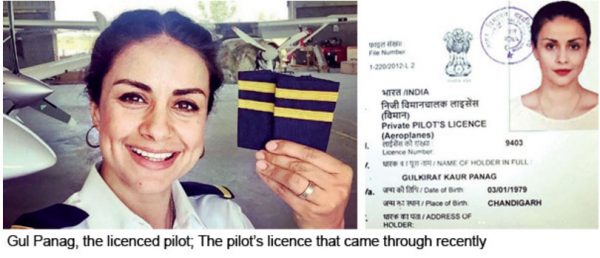 Gul plans to get certified to fly more kinds of planes. "I have to clear an exam for every plane I want to be rated on and there is a DGCA paper one needs to clear and a check on an aircraft to be rated. The plane I'm rated to fly currently is Cessna 172 Thielert, a variation of the Cessna 172," she signs off.