The two-day Festivelle has a line-up of moderated sessions on everything from motherhood to orgasms, plus workshops, comedy gigs, experientials, food carnivals and more.
Mumbai's Juhu Hotel is going to play host to quite the party this weekend! Shruti Seth and Gul Panag have donned the hats of organizers and curators to create a one-of-a-kind women's only culture-led weekender. The two day extravaganza they have up their sleeves is no festival, it's a festivelle.
For those of the intellectual bent of mind, there's Kiran Manral, Pooja Bedi, Paromita Vohra, Shunali Khullar Shroff, Mini Mathur, Maria Goretti among others who will be leading conversations on being a 'bad mom', returning to the corporate grind after motherhood and the like. But there's also retail therapy at the bazaar, eclectic music (Prateek Kuhad, Ankur and the Ghalat Family to name a few) and comedy performances (Sapan Verma, Anu Menon, Kanan Gill), relaxing spa treatments, delicious cocktails and more. The duo, who have been friends for over a decade, talk to India Today about Festivelle and what's in store.
What inspired you guys to organise Festivelle?
Shruti: The need to give women a break from their everyday chores and offer them experiences they'd enjoy but never get the time for. Also most festivals are organised outside the city which become difficult for women to attend given their various commitments we thought a performance art festival within the city would be perfect.
Gul: We wanted to create an experience for the urban woman, where she could let her hair down and take a break from all the pressures she is under on account of the multiple roles she plays. We also wanted to create a platform for women in the performing arts arena as well as in the idea exchange sphere. Thus was born Festivelle!
This is a by women, for women festival and so I believe you've been pretty democratic while curating the fest and paid heed to people's suggestions on who they wanted at the event? Why was that important for you?
Shruti: Women always complain that no one ever knows what they want. Many a times they themselves don't. So we thought why not simply ask. The suggestions also helped us build Festivelle.
Gul: We did a bunch of surveys on social media to arrive at what this experience- where the urban woman can take a break, should have. Music, comedy, shopping and conversations/discussions were pretty unanimous as preferences. This was important because ultimately this is about what women want, not us deciding for them.
Why is this a women-only event? Wouldn't you agree that it is important to increase dialogue with men and to include them in conversations about what women want?
Shruti: We absolutely must increase dialogue with men and there are numerous events doing that. Festivelle is designed for women only because being just with the tribe is equally important. Women react very differently to each other when men get thrown into the mix. There's a strange competition that creeps in. We wanted to eliminate that. The concept of being with just the girls was appealing because women empower each other when together. They build each other up, offer strength and that's what we want should be a take away from Festivelle.
Gul: There are lots of platforms where both men and women are part of conversations and in dialogue already!  What was missing was an informal space for women to get together have fun, let their hair down, take in superlative experiences and enable exchange of ideas on subjects that matter to them.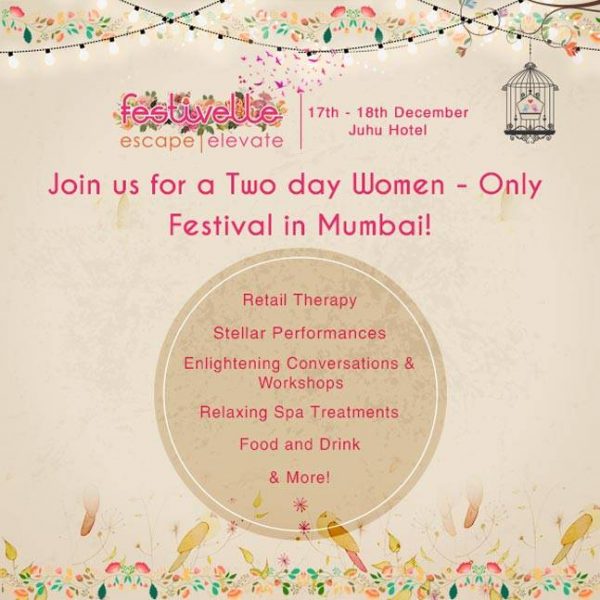 On a lighter note, it seems like an extended girly slumber party with hair-styling, make-up and cocktails! What do you hope are the biggest takeaways from the event?
Shruti: We want the girls to come let their hair down. Do everything they've been wanting to from enjoying music, comedy, shopping, some spa therapy etc and go away feeling relaxed and rejuvenated.
Gul: It totally is! That and much more. We hope women will walk away from those rejuvenated and elevated and in the process meet many others like themselves or completely different from them. We hope women will take their time off more seriously too!
Some of the sessions seem to be dealing with how it is okay for women to not be perfect at all times. Do you think women are faced with a lot of that pressure now? Some of it self-imposed?
Shruti: Absolutely and we want to help take that load off and ease the burden.
Gul: The urban woman is under pressure like never before. Whether she is a professional or a home maker, she is constantly juggling roles and wearing many hats. The ecosystem demands a lot from her, taking her abilities to multitask for granted. A lot of this pressure is also self imposed as she is always in the quest of playing every role to perfection- professional, mother, daughter, wife, friend, hostess, etc. In the process she has no time for herself.
Which sessions are you personally looking forward to the most?
Shruti: Why it's good to be a bad mom.
Gul: Sisterhood cheaper than therapy with Mini (Mathur) and Maria (Goretti).
Tickets for the event are available here. Season Pass for both days at INR 1750 for full access.
WHO: 18+ women only
WHEN: December 17-18, 2016
WHERE: The Juhu Hotel, Mumbai.
Meanwhile, watch Gul Panag and Shruti Seth in this fun video that is again, about women!