Gul Panag, the Indian ambassador of Arianna Huffington's Thrive Global initiative, made a New Year resolution that she will switch off her phone, every day for 30 minutes in 2018.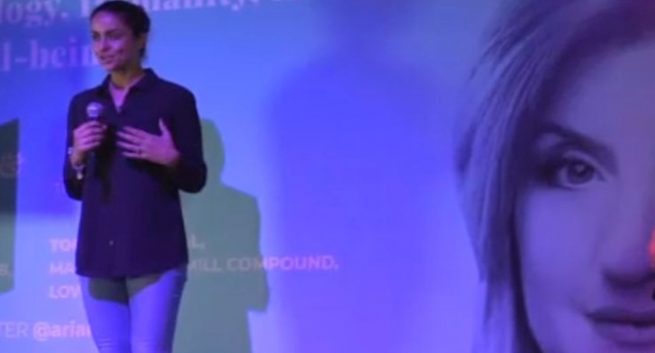 January is the month when we put our New Year resolutions to test. We look forward to actualising our dreams of a slimmer waistline, a fatter bank balance and better relationships in the present year. This year, add one more to your list — wish for complete dominance over your gadgets instead of being slaves to them like Gul Panag did. Gul, the Indian brand ambassador of Arianna Huffington's Thrive Global initiative, publically made a promise that she will switch off her phone, every day for 30 minutes as part of her New Year's resolution for 2018. Speaking at the Twitter Townhall, she stressed on the need for a digital detox for mental wellness, stress busting and overall positivity. "I am not gonna touch my phone for an hour. When I go to the phone, I go to it with an agenda instead of being overrun by the phone's agenda," she said. Read in detail how you can reduce your smartphone addiction.
There has been a clarion call from the scientists, warning the world of the dangers of tech addiction. Excessive screen time has also been whittling away at our brain, causing structural and functional changes in the long run. So if you are looking towards a healthier 2018, start with breaking up with your smartphone. Here's how you can do it.
Be practical
Within your own capacities, is it feasible for you to go on a digital detox? If your job involves being available on call all the time, will it be practical for you to go AWOL for a while? If the detox costs you your job, it's perhaps not the best time to try.
Start your day right
When you wake up, avoid the urge to reach for your cell phone and stare into the phone screen. Firstly, your eyes are sensitive to light when you wake up. The last thing you want to first thing in the morning is to expose them to bright artificial light of your smartphone screen. Here are some ways you are making your child addicted to the smartphone.
Make a list
Prepare a doable list of all the gadgets you can practically avoid: phones, laptops, tablets or the computer. If you can do without all of them, GREAT! If not, pick one and lock it away for the day. Did you know the health hazards of using a smartphone?
Schedule a curfew time
Ban yourself from touching the phone or the gadget between a specific time duration. Remember, it is non-negotiable. No matter how bad the temptation, you cannot use your phone during the curfew hours.
Keep your friends in the loop
Tell friends and family to not panic if you don't attend the call or answer your mail. Explain what you are doing and why you are doing it. Prepare an "Out of Office" automatic mail that will be sent to anybody who tries to contact you during the detox period.
Find a distraction
Pick a project for the day and keep your hands busy with it. If there is a cupboard that needs cleaning out, go right ahead. Cook a meal, take your pet out for a walk, talk to your family, give yourself a home pedicure or manicure. Do whatever it takes to keep your mind off your phone.
Pick up a book
When was the last time you were faithfully committed to a book without having to leave it mid-way to check Facebook? Can't remember? Now is probably a good time to rediscover the joy of reading. Besides, nothing — not even your trusted Kindle –can replace the pleasure sniffing the vanilla scented, browned pages of an old book.
No phone before bedtime
The light from the mobile phone screen can interfere with melatonin production and can cause sleep deprivation. So keep your phone locked away in a drawer somewhere. Use an old-fashioned alarm clock to wake you up in the morning.