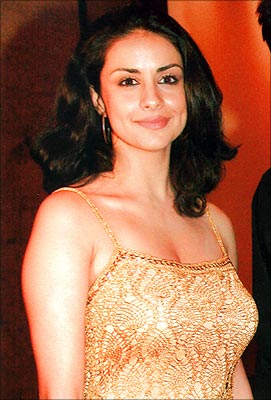 The first thing you will notice about Gul Panag are her dimples.
Though not as high profile as the other A-list celebrities, this former Miss India made an startling impact in Nagesh Kukunoor's Dor.
Now, the actress brings her no-nonsense demeanour while talking to Ruchi Naresh about her role in the upcoming Manorama Six Feet Under.

How has life changed after Dor?
Being associated with Nagesh means your work will get noticed. Dor has opened many opportunities for me as an actor, which otherwise wouldn't have been possible.
Our cinema is progressing and films like Dor are helping that transition. I have been getting interesting roles. I will be seen in Atul Agnihotri's Hello and a film called Anubhav.
Has Dor created an impression of Gul being an art-film actor?
I don't think so. I think today even commercial films like Baabul have a message (widow remarriage) attached to them and they aren't considered as art or parallel cinema.
I think both of have merged and you can't define cinema as good or bad. I want to do some challenging work. At the same time, I can only make choices from what I am offered. I would love to play a negative role, a killer or even a glamorous wife of a tycoon. I'm really open to anything to explore the versatility in me.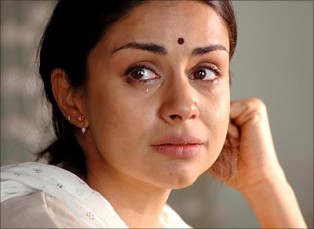 'Manorama belongs to the Karamchand school of suspense'
What is your role in Manorama Six Feet Under?
I play a very temperamental housewife from a small town. One minute she is calm and the other, completely livid. I also run a parlour to earn extra income for the family. My husband (Abhay Deol) is an engineer and a writer very inclined towards detective thrillers.
He starts investigating a case which affects our domestic life. Manorama is essentially a murder mystery film, belonging to the Karamchand school of suspense and mystery.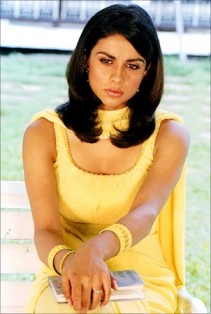 'Everyone knows I'm a pretty face'
Where you unhappy at any point with the ordinary, deglamorised look and loose clothes for the role?
No. I had to be very real to the character. She is a housewife from a small town and obviously, she doesn't parade in designer wear.
Everyone knows that I am a pretty face and I don't need to look beautiful for a role. In Manorama's case, I would lose the pulse of the character if I glammed up.
My look is different from the one in Dor where I played a simple girl too. I want to bring uniqueness in every role I play.
I am trying my level best to stand out in the given parameters. There are magazine covers, events, shows etc if I want to doll up.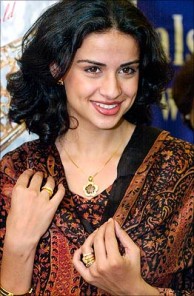 'I would like to work with Karan Johar'
How was the Manorama experience and working with actors like Vinay Pathak and Sarika?
It was a great opportunity. Navdeep Singh (director) is really good at his job and doesn't make a big deal about it.
Many times you find talented people being pompous and self-obsessed. With Navdeep, we knew that we were here to work. I didn't have many scenes with Vinay and Sarika. My interaction with Sarika was great, though. She is a gifted actor and very helpful.
In the contemporary lot, which directors do you admire and aspire to work with?
I really would like to work with Rakeysh Mehra, Karan Johar or Pradeep Sarkar some day. Each one believes in different kinds of filmmaking and I really love their style of cinema.