Gul Panag, who had been on an adventure across Himachal hills, is almost done with her travel. The actor recently flew to Himachal Pradesh and since then her Instagram profile is replete with pictures of her cycling expedition in the hills. The 43-year-old, who describes herself as 'an adrenalin junkie' was out there in the mountains of Ladakh for her cycling expedition.
From her last leg of the tour in Tso Moriri, Panag shared a photo with her son who are looking over the mountains, with their backs turned towards the camera. She cheekily added in the caption, 'First hair wash in 8 days! The dust and diesel fume residue in the hair creates a special kind of matte effect.'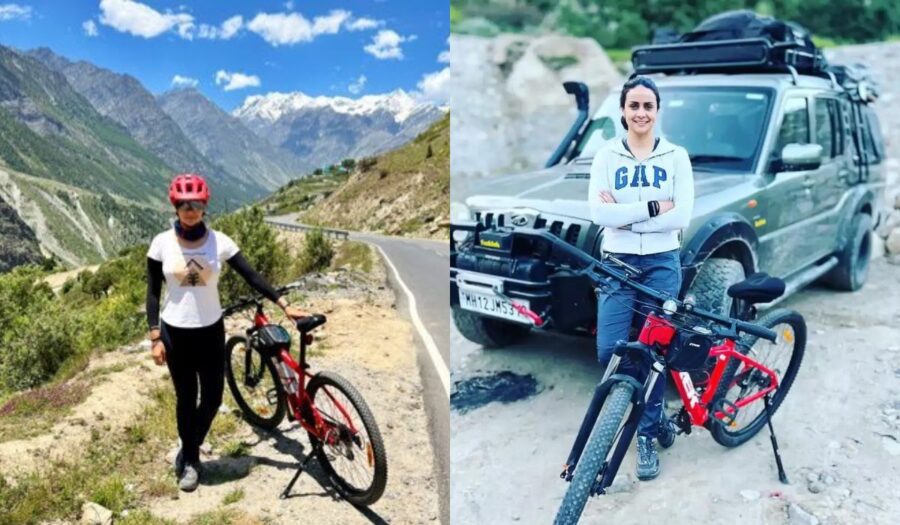 From taking her first training session in the mountains and getting stuck in a downpour to breaking the chain of her cycle on the road to calling up her dad to come and fix it for her, Gul's cycling journey has been a treat for us to know.
Training period
Sharing a picture from the first day of her training schedule, Panag described her experience as a 'whole different ball game.'
Panag shared that she cycled for 25 km at least thrice a week as part of her training. But, she insisted that riding in the hills is way more challenging than cycling on the plains. She added that it takes more endurance and strength while getting used to the bike also takes time. Panag also recalled how the chain of her bicycle came off during a climb and she had to call her father after failing to fix it.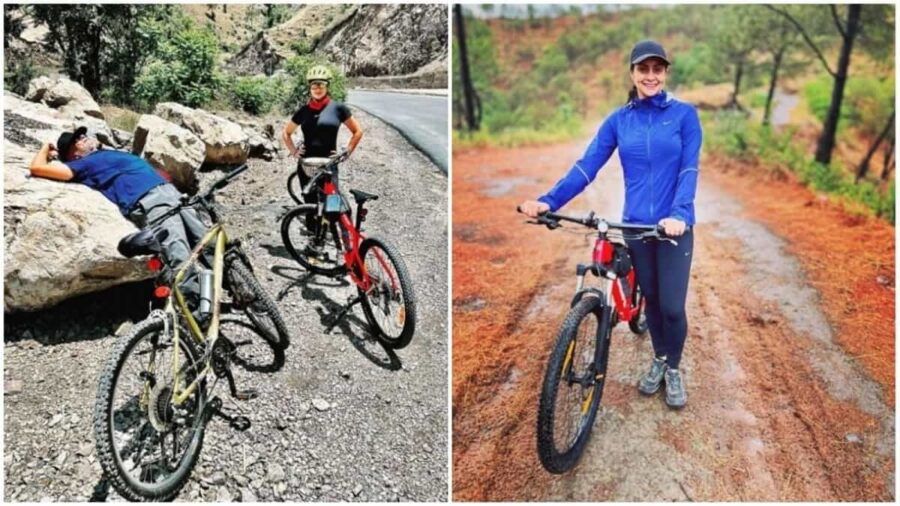 Once her journey began Panag shared a video in which she and the rest of her crew were seen pedalling to Ladakh. They can be seen cautiously riding their cycles uphill on the mountainous road, with cars driving by.
She was joined by her father, too, whom she calls her inspiration. In a separate post, she had extolled him, writing that he has been "cycling 30km a day on average" for over 10 years now, and that too in all seasons: winter, summer, and monsoon.
'Climate Change is real'
However, this was not her first visit to Ladakh and a lot has changed since her trip to the picturesque location, the star mentioned in another post. Explaining that she was last in Ladakh in 2002, she said that her return to the place has only proved to her the effects of climate change. Sharing a set of images from her current trip as well as the one from two decades ago, Panag said, "Pedalling to Ladakh. Climate change is real! We first went to Ladakh in 2002. On a bike. Back then, at the end of June, Baralacha Pass had 12 feet of snow. Now it was just rocks, bad roads and dust."
The Dor actress added, "The first real challenge of our cycling trip came here. The road is non-existent; the last few kilometres, and one is struggling with the altitude. It's the first major pass and it's hard not because of its height but because it's the single largest transition in altitude."
There is no stopping the 43-year-old, who can even do push-ups in a sari! Panag's adventure is nothing short of an inspirational tale, really, because this kind of travel allows you to look forward to something new every day, while also making sure you stay fit and healthy.
Read more at: https://www.shethepeople.tv/film-theatre/gul-panag-cycling-in-ladakh/