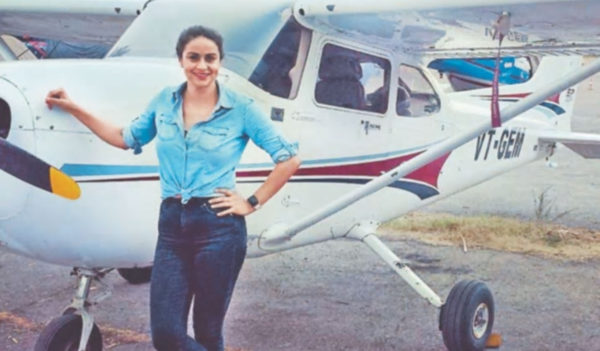 It's not every day that you meet a celebrity who is constantly on the move. When she isn't acting in films, she is producing web content. When she isn't flying an aircraft, she is on a motorbike for an adventure series. When she isn't working on her fitness app, she is campaigning for a political party. Gul Panag clearly has her plate full and knows how to manage it with aplomb. So the first question that comes to mind when you meet her is: how do you manage it all?' Coffee and exercise keeps me going, Panag bursts out laughing. Sometimes, coffee comes first, sometimes it is exercise.
Dressed in a fuchsia dress, the actor presents a picture of grace and modernity. In the Capital for the 5th Mail Today Tourism Summit, she knows it isn't easy being a mother to a 15-month-old and yet manage it all so efficiently. On a serious note, it's very easy to get overwhelmed and over-burdened. I use exercise as reboot because the stress goes away. A lot of things I can't find solution to go away with exercise, she mentions. Surely enough! She looks not an inch more than how she looked when she debuted as Peehu Verma in Dhoop in 2003. The 40-year-old adds, On the positive side, I also remain the same size. I still fit into the clothes from my college days. I have high-wasted jeans, which I wore in my 20s.
THE FUN OF FLYING
Having her lunch quietly as she's seated at one of the corner tables of a plush 5-star restaurant, Panag presents a picture of poise. She has her hands full and yet the famous dimpled smile rarely turns into a frown during the hour long conversation that we have. She patiently answers every question as she nibbles on her lunch and in between, she politely excuses herself to answer a phone call or two. This is when we know for sure, it isn't easy being Panag.
The girl who turned up for her wedding on a bike got a pilot's license in 2016. I always wanted to learn how to fly, perhaps from the age of 13. And my husband, who is an airline pilot, encouraged me to follow my dream. I started out somewhere in 2015, and within a few months I completed my flying hours and got my Private Pilot License, she says with a glint of pride in her eyes. Not without reason. How many have followed a childhood dream in the midst of shooting schedules, company meetings and production hassles?
Panag mentions that her first solo flight is one of the greatest moments in her life. The feeling of flying solo can only be matched with the feeling of holding my son. Nothing in life comes close to that. It is the most powerful feeling, most cherished feeling, she says candidly.
She also goes on to admit that learning to fly has given her a new perspective. When you are flying a plane, the training that is given to you is constantly about how to anticipate failures. We have to think what to do in case there's a technical emergency. You are constantly taught what to anticipate and be prepared. Also, it makes you objective and helps you prioritise. Panag compares how the skills she picked up during training are now being applied in real life. In life, we end up blaming a lot. Flying has taught me to be a great crisis manager, she adds.
Panag also believes that she can now easily anticipate how to handle her 15-month-old son. He is running around a lot, and I can anticipate his next move, she says with motherly affection. Having a baby hasn't stopped her from travelling around the world, Since he was fivemonths- old, he has been on two flights every month. I am so happy he has taken well to flying.
LEARNING CURVE
Through her powerful performances in films like Dor, Manorama Six Feet Under or Turning 30, Panag's movies have always left an impact. And just like her offbeat choices in films, she believes in venturing into unconventional businesses as an entrepreneur. She has co-created a company named MobieFit that makes fitness apps. That apart, her six-year-old production house is creating content for brands, We make short films and are looking at creating web-series. We've done shows for National Geographic, Discovery Channel (Off Road with Gul Panag), and more.
Recently, the actor launched an online platform called Hobbyist, one that promotes worklife balance by curating, educating and collating interesting hobbies for its users. An ardent pursuer of hobbies herself, she terms this as a de-stressor. As kids, we paid a lot of attention to hobbies. But when they no longer match your entrance forms, they go into the backburner I wanted to do something around hobbies as I always pursued many. And now that I have entered midlife, I feel that the importance of pursuing hobbies is what gives you an extra dimension, one that is going to make you stand out in the competition, Panag says.
She also passionately explains how universities abroad pay attention to the extra mile a student has gone. People who last it out in the long run are the ones who pursue a hobby simply because they have an opportunity to vent out, refocus, destress, and these prevent them from burning out.
Besides travelling, Panag confesses about a peculiar habit that she finds destressing, I enjoy cleaning my toilets. When I am in stress, I pick up an old toothbrush and clean the nooks and corners of the bathroom, the tiles, and toilets. It was also a habit that was formed at the age of eight, when she was asked by her parents to clean her own washroom. I am not sure if this qualifies as a hobby as it is more of a stress buster. And I really enjoy doing it, she laughs off. With an insatiable desire to learn how things work, it isn't surprising that the next thing on her agenda is to learn how to blow glass. I think it's done in Europe. But I have to learn how to do it, says Panag, who is currently learning how to play the guitar.
FILMS & MORE
Last seen on the silver screen playing the role of a bike-rider and fitness coach in Student Of The Year 2, Panag says she is in the busiest year as an actor. Having finished a web-series with Manoj Bajpayee for Amazon Prime, which will be out in the next few months, she has wrapped up another web-series for Anushkha Sharma's production house and is shooting for another web-series (with Sharman Joshi) that will be aired soon. Her next big release is Bypass Road with Neil Nitin Mukesh, in which she plays an antagonist.
Panag was also the Aam Aadmi Party candidate from Chandigarh for the 2014 general elections. We asked her if she'd ever go back to politics. Yes, why not? Right now my son is too young, so it wouldn't be fair on him if I entered the political world so soon. Unfortunately, it is not a practice that you can leave and come back to. But I remain politically engaged, and I'm very much a part of the political system, Panag says. As an afterthought, she concludes, I intend to contest in the future.