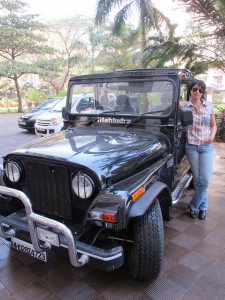 At first sight it looks very  butch. And the impression doesn't quite change after driving it for 3days. The Thar is a good looking rugged automobile( if you're into retro looks).
I was taken aback by how peppy it is. With a  2.5L crde engine( a variant of the Scorpio's) I was sure it wouldnt be sluggish- but it's pick up took me by surprise. It is lighter than it's big cousin the Scorpio, and feels so. It also doesn't have the latter's tendency of 'leaning' on the corners.
I liked the way the Thar dominates the road. A lot many cars, autos didn't 'cut-in' ahead of me seeing it. Many bigger cars driving on the wrong side of  the road from the opposite direction obediently went to their lane. Not bad. The standard issue  (Bridgestone 235/70/r 16 HT) radials give it a surprisingly good ride and the suspension too is better than what I expected from an 'off-roader'.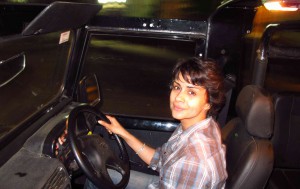 Despite having a hydraulic power steering the , I feel the Thar is let down by it's turning radius. I would expect it to turn in 4.25 meters owing to it's size. I think the problem is that the Thar is a lot bigger than it feels and thus one has such 'mini' jeep type expectations.Another big let down is the quality of the plastics, door panels AND the MM 540 style archaic gear shift( even though it has the Scorpio gearbox) Why?? Like the 540, finding neutral ,first  gear and reverse is an effort:(
I think Mahindra have delivered a surprise with the Thar(even though it's  a tad pricey**).  Will it attract the urban buyer? Not sure. Maybe the weekend off roader who will buy it to indulge his passion. It is likely to be a second vehicle for those. I don't see it being the primary car for most. This IS packaged as 80% off-road and 20% road.  And it definitely denies you all the comforts one would like in the city but can do without while off-roading.
Whatever your reason for buying the Thar- one thing is certain- you will be the cynosure of all eyes when on the road.
** the crde version is Rs 6 lakhs ex showroom.