This appeared in DNA Sep 22, 2013
To mistake Indians for West Asians is one thing. But to even cast a racist slur against people of Arab origin, is not an America we know of, says Gul Panag, referring to the recent geographical and racial hoopla in the Miss America pageant, and the undercurrents of international beauty parades.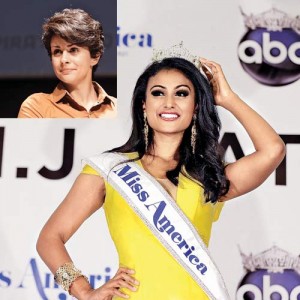 What is a beauty pageant? It's a contest amongst equals. It doesn't mean that the person who won is better or worse. It's just that at that moment, this person appears to have everything the contest is looking for.
The minority who discriminated against Nina Davuluri, projected to the world that to be Miss America, you need to be white. And yet, America has a black president. The largely Caucasian population which came from countries in west Europe has come to define what America should be.
Prejudice is not socially acceptable in America anymore and Americans have gone to the extent of calling a 'blackboard' a chalk board to compensate for their background of prejudice. By calling a blackboard a chalk board, does it mean that your inherent prejudice has gone? Perhaps not.
To believe that any society is prejudice free is to believe in utopia.
It doesn't exist; there are prejudices everywhere, be it racial, caste based or cultural. The growth of human society, if you trace the genesis of it, is peppered with prejudice and it has always been used as a tool of power.
Civilised society learns to camouflage it . I don't see this as a uniquely American problem as it is something that exists everywhere. But what's alarming is the attention that's being given to the fringe population which thinks like this and grabs headlines.
We're talking about a beauty pageant here. Essentially, all pageants are a function of subjectivity. The reigning Miss Universe when I contested in 1999 was a black girl from Trinidad and Tobago and it was widely believed by other contestants that another girl of colour cannot win.
Therefore, Miss Botswana wining was a pleasant surprise at multiple levels because it broke the myth that two black girls cannot win in succession. In a pageant, there are multiple permutations and combinations like the way you speak and the way you carry yourself.
Pageants became a very big deal in the west in the '60s and '70s whereas in India the point of inflection came in the '90s. If you see why pageants are popular, it was because you were suddenly giving women a platform to assert themselves on the basis of their beauty or physical attributes.
An intelligent woman saw that, she knew she was smart but thought of pageants as a short cut and that's how really smart women who were beauty pageant winners made it to the front pages of the world press. And for all the right reasons.
Among racists in America, the new monster is not the person of colour or the woman contesting politically; it is the Arab world.
Suddenly all of West Asia to a racist becomes suspect. Everyone is concerned about Indians being clubbed with Arabs but I believen even referring to Arabs in a derogatory fashion is unfair.
Even worse, that Davaluri was singled out as being racially different.
Now, because of the acts of a few people, you're giving a society the right to regress into racial, regional prejudice and discrimination. The media actually played it up by giving an open license to the fringe population who discriminated. If a minority in America thinks like this, must the media play it up?
As for playing up Nina Davuluri's academic background, it was just another dimension. I remember reading stats about the number of people who go to grad school in America and they are dismal.
I know it's called a beauty pageant but beauty is not what it's all about. It's about being a well-rounded personality that impresses the judges. And if Davuluri did that, more power to her as a woman. More power to every woman: Indian. Arab. Even American.
As told to Shikha Kumar