Gul Panag arrives outside her apartment in Versova, Mumbai, in her electric car. Dressed nattily as always, she smiles her dimpled smile and ushers me upstairs to her apartment, where she instructs her staff to take her beagles outside for a walk. Then, she settles down on a wicker sofa with a coffee and tells me how difficult she finds it to be in the house when food is being cooked because of the masalas, especially since it is the season for allergies. That's why she has been popping pills but has been careful about it as she is planning to start a family soon.
The former Miss India has had quite a journey and it wouldn't be farfetched to say that she has come a long way. "As one gets older, I think one becomes a better version of oneself," says a fitter and stronger Panag, who was quick to realise that she couldn't live her life playing by somebody else's rules. The "alternative actor", who has acted in approximately 15 films, says that she was very clear about the kind of films that she wanted to do. "Now, I act completely out of choice when I get a good part," she says. She was never keen to dance around trees because a life in public office was something she always envisioned.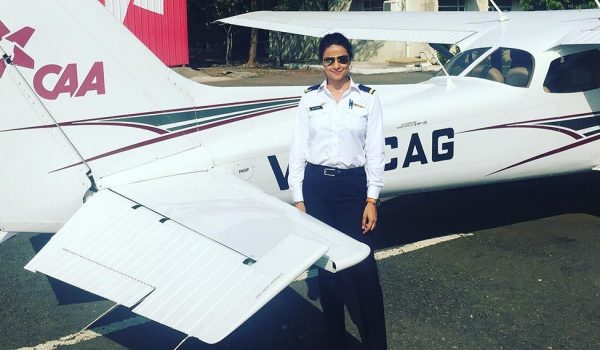 Flying high Bow-wowed: Gul Panag with her beagles at her Versova home | Janak Bhat
Joining social media was a big "inflection point" for the tech-savvy Panag, both personally and professionally, because she had plenty to say. "I would use social media like a diary," she says. She was, however, careful never to share details of her personal life on it. "Which is why my wedding caught the whole world by surprise," she says. "That part of my life was very guarded because I felt that it wasn't fair to drag someone who has no interest in this."
Panag's love for cars, bikes, technology, fitness and adventure put her on a different trajectory altogether and with social media, she found herself being quoted in the edit pages of newspapers on issues that she had spoken about. In fact, her fitness credentials were built on social media. "Suddenly, I was somebody with a life outside of films and, at a professional level, that became very attractive to people who wanted to work with me," she says. "Here I was in this enviable position, living it up and people wanted to reward me for it, for doing stuff that I would do anyway for fun and love."
Today, Panag wears many hats. She runs a content company called TLP (Tittar Lodge Productions) and a tech company called Mobiefit Technologies, which makes indigenised fitness apps. Then there is her NGO, Colonel Shamsher Singh Foundation, named after her grandfather, which works on gender-specific issues in her district, Fatehgarh Sahib, Punjab. Panag feels very strongly that if it wasn't for an accident of birth, and if she hadn't been born in the family of this army officer with his worldview, she would probably be born in a different home and become a different person. "It is being part of the larger family of the armed forces that has made me who I am," she says.
Flying high She is a fitness enthusiast and loves biking
About her stint with the Aam Aadmi Party, she says the journey was incredible. She believes that "AAP is a work in progress, it is a movement which has been forced to become a political party. It is not perfect but the thing is, I believe in trying to stand for change… in acknowledging the imperfections and working towards fixing them." Though she isn't contesting, she continues to be a supporter.
Then came Panag's burning desire to create platforms for women and so she set up Core Entertainment with a friend, which tailor-makes women-oriented event solutions. The first of which is happening in Juhu shortly and is for women, by women and of women. "It is India's first performing arts festival which headlines women performers, women comedy stars, interesting sessions and conversations with women about women," she says.
In between all this, she also managed to act in a comedy thriller, Ambarsariya, with Diljit Dosanjh, embark on a road trip in the northeast and obtain her private pilot's licence (PPL). How? "I am a big planner and very ruthless with compartmentalisation," says Panag, who also believes in the age-old military mantra OODA—Observe, Orient, Decide and Act. "I do the OODA cycles all the time," she says.
Panag always wanted to pursue flying as a hobby pilot. "Flying is a big feather in my cap, it is very niche and I've done something that I really wanted to do," she says. She found a school in Sagar, Madhya Pradesh, with a dedicated PPL programme and excellent ground and flying instructors. In four sessions of 10 days each, she wrapped up her lessons. "A lot of friends said 'nice thought but you won't be able to do it with your busy schedule'," says Panag, who has now flown a Cessna 172 and a 152 and plans on buying the 172 with a group of friends.
What's the most exciting part about flying? "For any aviator, it is the first solo," she says. "That feeling, that realisation that you can take off and land by yourself is UNBELIEVABLE! It is a moment with which I haven't had a parallel in my life! I don't want to put an adjective to it but it is something that only a pilot can share." Luckily, she found the biggest supporter in her husband Rishi, who is a pilot. "Rishi has been my backbone, my support system, he has been my sounding board who never asks 'why' but only says 'why not'?"