On Friday, bollywood actors Gul Panag, Kalki Koechlin, Purab Kohli were present at United Colors of Benettion campaign #UnitedByHalf which is a women empowerment campaign. In the panel discussion, both bollywood actresses felt that, in changing times women's should be given equal rights along with men.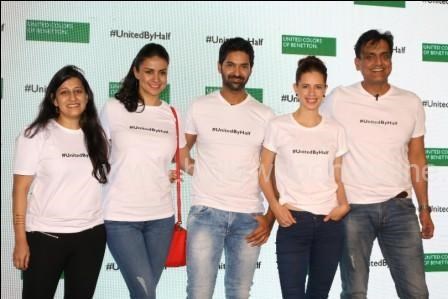 Gul said, "It's a commendable attempt in a male dominated society, because in our society women still struggle to get equal rights and share as compared with men at a macro level and it's a great corporate responsibility to push something like this in society like ours".
She added, "If we have to bring changes about certain issues then we have to have a healthy debate on that as far as women's rights are concerned, they don't even have the basic rights like to take decision by themselves on their education and marriage so there should be more campaign like these and apart from that Indian cinema should also come up with such strong subject based on women's life".
Kalki Said, "the whole idea of united by half is claiming that women's must half equal chances, opportunities and rights along with men. It's a really relevant issue today which is being discussed in global platforms. It means from now on men and women need to work together rather than separately plus, gender stereotyping in our country is one of the biggest issue in India which restricts both men and  women to do what they wanted to which shouldn't be happening and I hope we are moving towards that."
Actor Purab Kohli also agreed to the opinions of both the actress that as a society we need to look forward and work together for individual and social development.