Journey to Sach Pass
Planning
Himachal has been one of my favourite states for camping and trekking for a while. The fact that it offers easy accessibility from my hometown Chandigarh is definitely a plus- since almost all our trips begin there. We zeroed in on Chamba for our road trip because it was one area we hadn't explored. But even in Chamba one could head in several directions. I was keen on going beyond Brahmour and camping beside the ManiMahesh Lake. But my father ruled that out. He felt the former was too easily accessible by tourists from Khajjiar and would be crowded( read Manali-Rohtang, Shimla-Kufri, etc). Besides it didn't have much elevation so it would be comparatively warm. Let me add here that the whole rationale of "heading out" for us as a family is to escape the crowd (and the heat of the plains). Unfortunately, today one must travel 6-8 hours from the nearest popular tourist town( in this case hill station) to be able to leave behind the throngs of cars, potato chips/biscuits wrappers strewn carelessly and used PET bottles. (Littering it, appears is a favourite tourist pass time in the hills). Also our preferred destination should be at an elevation of 8500 – 9000ft or more.So it was decided that we'd head north towards Sach Pass and maybe ( if time permitted cross across to the Pangi Valley and return via Manali- Jalori Pass , Narkanda and Shimla.)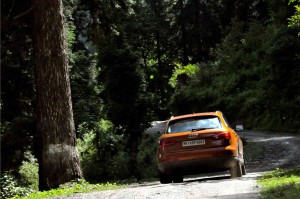 A week before we were to head out, my brother Sherbir and Rustom( Rishi's brother) dropped out citing professional concerns like lack of leave,etc. For us both to have continued alone ( though brave) was not an option. We are firm believers in the more the merrier( not more than 4 though). Since we had been in touch with my Dad about the route, he offered to join us( with mom). We were actually secretly relieved. Mom & Dad are very seasoned road trippers( and campers) and their experience would come in handy.
Day 1. Mumbai- Delhi
We were all set to fly from Mumbai with our two dogs Milo and Vegas.Traveling to the airport with all our considerable gear( tents, sleeping bags, new inflatable mattress), two dogs was a task. We split up into 2 cabs and set off. Fortunately we reached well before time and the usual tiff with Rishi was avoided. The flight was un-eventful. I reached baggage claim to the sounds of Milo and Vegas barking in their kennels. Baggage was claimed, dogs were claimed and we piled into the car and headed to Rishi's family home.  We organized all our gear and picked up supplies from the local kiryana store. Sleeping early plans were given up when we decided to meet some friends  for dinner.
Day 2. Delhi -Chandigarh
We had decided to leave as early as possible to avoid getting stuck in Delhi traffic. We had two cars and two drivers.The plan was I would drive the Q5 and Rishi the Q3. Upon seeing the Q3 Rustom decided he didn't want to miss the chance of driving it after all  and decided to join us for the first leg till Chandigarh. The whole trip was planned in a manner so that we could be in Chandigarh for my paternal grandfather's 97th birthday and it was to his noon birthday party that we were headed. Half way through, Milo began to hyperventilate( he had an enlarged heart and was on life support medication for Congestive Heart Failure). By the time we reached Chandigarh  he was very uneasy. His heart was giving away and his lungs were filling up with water.
Grandad's party was a family reunion of sorts! Most of his children, grand children and great grand children had converged from all parts of the country to make it for the big day. Not sure whether Daddyji enjoyed all the posing he was made to do for everyone's cameras or whether he liked all of us feeding him cake. He tends to be a bit reticent in crowds- even if they comprise of his brood! We all had a great time and definitely ate way too much of the finger licking chocolate cake. Life is unpredictable and one always cherishes moments spent with family.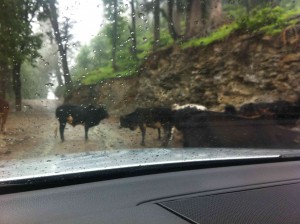 Loading up the car is an art and one that everyone seems to be an expert at. After all it's not just a matter of dumping things in the boot, but of arranging them in a manner that is pleasing to the eye and allows for easy access to things that may be needed in the course of the journey. It was decided that we'd load the Q3 at night so we could make an early start the next day. We had a lot of luggage, but the boots of both cars easily accommodated it all. The night was spent watching over Milo. His condition had worsened and he was finding it tough to breathe. The vet advised us to leave him behind. If I had to leave him behind, I'd have left him in Mumbai. Rishi and I both felt we'd rather have him with us(like on the many road trips before) and be with him when the end came instead of him being alone at home. Milo died that night. My only consolation was that he breathed his last in Rishi and my arms and that he was finally out of his misery.
Day 3. Chandigarh -Dalhousie
We set out with a heavy heart, carrying Milo with us. We had been joined by Rishi's parents who were accompanying us till Dalhousie. We took a detour to bury him at our farm near Fatehgarh Saheb  and thus had to take the awful under up-gradation/renovation Grand Trunk Road till Jalandhar. (Our ideal route was to go via Hoshiarpur ). The GT road or NH1 had ceased to exist all together between Sirhind  and Jalandhar with  diversions after diversions and no visible work going on.( This has been the state for last 2 years at least). We got stuck in a mother of all jams at Ludhiana . It cost us 2hrs. We were now running over 3 hrs late and our plan of making it to Dalhousie before dark looked unlikely. We finally got off the GT road short of Jalandhar and headed towards Pathankot . I think a collective sigh of relief was breathed by the occupants of all three vehicles. The road was much better and of course the volume of traffic had reduced. We stopped for tea at Chakki just before the climb began and finally stretched our legs.(Lunch had been had on the go courtesy a McDonalds Drive thro). The tea was fantastic. Or may be we were just too weary after being up all night with Milo and the painful drive from Chandigarh till Chakki. Vegas had gone into silent mode( sensing Milo's absence). The other dog with us, Typsy( Milo's daughter) in the Q3 with Mom Dad is a silent type dog anyway. After walking the dogs, checking the tyres , and fueling up, we  started the climb to Dalhousie. And our day finally took a turn for the better. The road was beautiful and we hardly encountered any other cars. Extremely unusual for this time of the year, for a road leading to a hill station.  I wasn't complaining. The setting sun made a beautiful picture  against the hills. We reached Dalhousie at last light and found our way to our accommodation in the Cantonment( the advantages of traveling with a retired Army Commander, Dad, were many). Located on a cliff Purbani (our quarters) offered a beautiful view of the mountains. It was chilly and I grabbed jumpers for Rishi and me from the car before settling down to a truly well deserved cup of tea. In all that was happening, I had completely forgotten to feed the dogs( the task of feeding Typsy as well, was delegated to me)!!!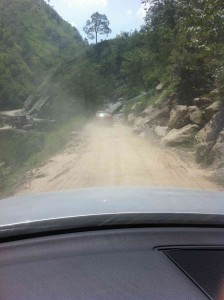 Day 4 Dalhousie -Satrundi
After a good night's rest , we  were on our way to Satrundi. Rishi's parents were staying back in Dalhousie so it was just the 4 of us- Mom, Dad, Rishi and me. We descended to the valley floor at Chamba and the heat assaulted us. Dalhousie at 7000 feet was much cooler. After crossing the Ravi ( and taking in the breath taking view of Chimera Dam) we started our climb again. Shortly after Tisa we had a sudden tyre burst, probably on account of a sharp stone, since we had left with brand new tyres. By now the road had deteriorated considerably and reduced to a dirt track in places( but worse was still to come). Fortunately the Q5 came with a spare tyre( unlike the other Bavarian cars that have run flats and thus don't give a spare) and we were up and running in no time. But we had no spare and our other tyre was a write-off. Audi service promised to send us a new one immediately. We decided to head on straight to Satrundi- giving our coordinates to the local puncture guy who the Audi service people were to liase with. After crossing Bairagarh,  20km away from Satrundi, the road ended. It had ended on the map as well( but I was hoping that it was outdated and a fresh new PWD road would greet us- Border Roads Organisation   doesn't maintain these ). It was now what is known in map parlance – a jeep track. Of course Bairagarh was also the last place that one could catch cellular network. No road, no spare, no network. We definitely were pushing our luck. Our speed reduced to nothing. The track was designed for one way traffic and if one didn't spot an on coming vehicle in advance and planned for it- it meant painful reversing. Fortunately ( or unfortunately) we stopped encountering other vehicles all together. We took a short break for tea, made by Mom on our portable baby gas stove. After seeing the condition of the track I recommended we install the tow hooks just in case( it involved removing a portion of the front bumper and screwing in the hook). We were now all set. For any eventuality. Finally I spied a mile stone saying Satrundi 3 KM. I thought to myself , only another arduous half hour to go- so slowly were we driving! It had begun to rain and it added to the water obstacles. We'd alreasy crossed a few waterfalls flowing freely and furiously across the track. The parked JCV on the side should have given us a hint of what lay ahead.
Despite the windows being up( to keep out the cold, we were now at 11000ft) we heard it before we saw it. White water terror awaited us up ahead. Almost 200 meters of it, flowing fast down the mountain side. The thought of turning back broke my heart. We decided to check what Dad had to say. We got out of the cars and examined the terrain. Apart from not being able to gauge the depth of the water, there was another problem. There was a massive stone in the centre- the only way across was to drive on its left- almost on the edge ( with a 1000 meter  fall if we miscalculated). Dad went first and we followed. The quattro probably brought out its full power and we crawled through and made it! Phew. We later found out about this particular patch- that it was the most notorious- how the water rises by nightfall, how the JCV is always stationed there for imminent landslides, how two vehicles were swept away a while back……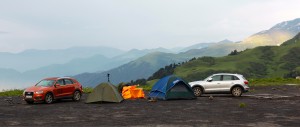 The check post at Satrundi was manned by cops who didn't understand why we felt the need to pitch our tents in the middle of no where. An argument ensued. My father showed his I -card and  all was well. We finally made it to our campsite and started setting up camp (at 11500ft). Mom and Rishi had been on Diamox since the day before.(Unlike a lot of mountain areas, here one goes from 3000 odd feet in Chamba to 11000 feet plus in a span of only 4 hours leaving no room for gradual acclimatization). I was being all macho and refused repeated offerings of the wonder drug.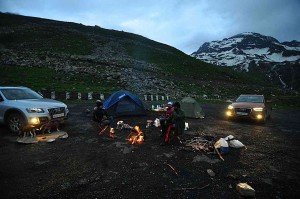 It was late in the evening by the time we were all set and had a fire going. The dogs had slept all day during the drive and I hoped were now alert to warn us of anyone approaching – friend or foe. Mom made the most delicious food. I chipped in by roasting marsh mellows over the fire( on the tip of the longest blade of my swiss knife since we had no skewer). We had chilled beverages thanks to the ice I had got from the road side and packed into the icebox. I was looking forward to trying out our new camping inflatable mattress. And hoping it wouldn't rain anymore. Yes, this was as close to heaven as it could be. ( except I should have had Diamox)
Day 5. Satrundi -Sach Pass
We were up early to catch the first light. It is always the most magical moment when camping or trekking. Wild horses couldn't have kept Rishi away from taking his morning pictures! I was assigned the task of bringing water from the  water-fall nearby . As I took one labored step after the other I realized I was displaying the initial symptoms of AMS( Acute Mountain Sickness ). I was breathless and my head was pounding. My heart rate was at 120 ( more than double of my Bradycardia rate of 57/58). I slowly walked back. It felt nothing short of a 2km run. And asked for Diamox and paracetamol. Tea and an hour later , I felt slightly better. Now, we hadn't seen another vehicle for almost 16 hours, so it was with more than mild curiosity that I observed this Tavera slowly navigate the curvy track along the mountain side. I assumed it was on its way to Sach Pass (12KM away from where we camped). Imagine my surprise when it turned off the track and made its way to us.  Turned out to be the tyre Audi service had sent us. I was truly impressed. The person who brought the tyre had driven all the way from Ludhiana, almost 8 hrs of driving , to reach us in the back of beyond,  at 11500 feet and managed to find us with out cellular network! It was a modern day miracle.The day had started on a good note( I start believing and reading into these "signs" when traveling).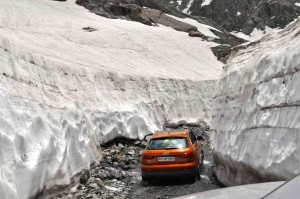 After a big breakfast of sausages, baked beans and eggs, we set off to Sach Pass. The milestone read 12km, it should have said 2hours instead. I was at the wheel again as Rishi decided he was going to tinker with his Go Pro Hero cam. The climb was steep. In places it was like driving through a river bed. The wall of ice on either side was over 20 feet high. The track went from slush to rocky bed with water running, to just plain narrow. Ahead of me I saw a chunk of ice fall on to the road. Squeezing past it was going to be tight. Had to get out of the car and walk( slowly- AMS) to examine it before going through as the Q5 was slightly wider than the Q3 ahead. Keeping my right tyre on the right edge I still scrapped the entire length of the car with the ice wall on the left.


A few more tedious hair pin bends and suddenly we were on Sach Pass. It wore a deserted look ( unlike other passes that are either buzzing with tourists or have a Border Roads detachment stationed for the duration the pass is open).The view from the Pass of both valleys was pristine and un-spolit. I would have wanted to stay there longer( but the pounding in my head reminded my a quick descent was best). We paid our respects at the temple on the Pass as is customary, took a mental picture with our eyes( and several with the camera) and headed back. I still hope to do this again- and cross across this time and explore Pangi Valley. Maybe on my Royal Enfiled:)