( This appears in the January edition of Auto India)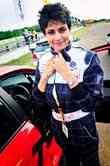 Speed never thrilled me. My wish list for a bike is topped by a cruiser( not a sports bike)- the Victory Hammer and that of a car by the Jeep Cherokee.  I have always enjoyed off-roading much much more than speeding. So it was with a less than enthusiastic response that I accepted an invitation to race at the VW Polo Cup in Chennai. I do of course enjoy motor sport. I follow MotoGP and F1 religiously. Specially thanks to having actually felt what it's like to drive an F1  (courtesy Renault in 2007).
Upon reaching Chennai, Rayomand Banajee, the driver coach,  was insistent I go check out the track, but i was pre occupied with interviews for Turning 30 and generally didn't feel the need…. Infact, the director Alankrita( in Chennai with me) was dead against me racing at all as she didn't want any mishap to derail our upcoming  publicity schedule. Once I reached the Madras Motorsport Club track I began to feel the familiar rush. The cars revving was like music to my ears. The excitement mounted as I checked out my race car . I watched the other races- super sedans, Formula Rolons –  with growing impatience . And it was finally time for our race!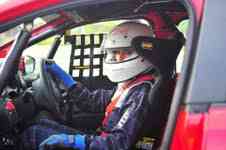 The disadvantage of not having spent time on the track was immediately evident. But I was in  the thick of it. And I had nothing to lose – except the race. I had Nawaz Sandhu outlap me and all I felt was  awe. I suddenly realised I really wanted to race- 4 laps into the race. But then it's never too late to start- can't wait for the next VW Polo Cup !! And this time I will spend some time on the track.